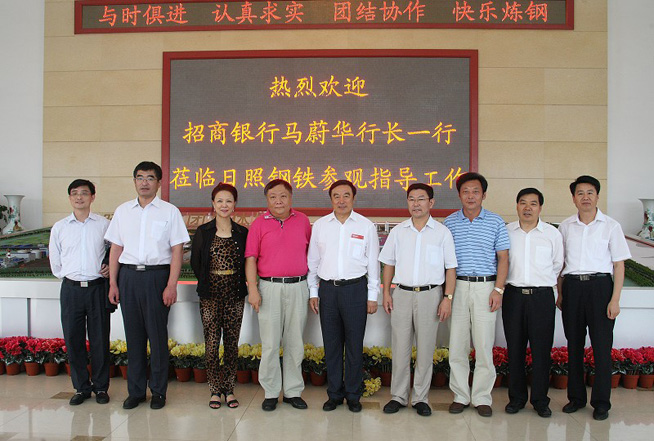 The afternoon of July 2, Kings, China Merchants Bank governor Ma Yuhua, Qingdao Branch governor Wang Jiquan, Qingdao Branch governor Liu Bo and other leaders visited Rizhao Steel. Rizhao City Vice Mayor Liu Zhaoliang, Lanshan District party committee secretary Gai Weixing, Jinghua Rizhao Steel Holding Group chairman, president Du Shuanghua, senior vice president Xue Jian, vice president Wang Lifei, Rizhao Steel Group general manager Li Shicai and other leaders accompanied.Jinghua Rizhao Steel Holding Group chairman, president Du Shuanghua welcome the arrival of Ma wei and his party, chairman Du introduced the development of Rizhao Steel, expressed his thanks to the Merchants Bank for many years to support the development of Rizhao Steel, hope to further deepen the cooperation with the Merchants Bank.
Merchants Bank President Ma Weihua, introduced the development of Merchants Bank, expressed his thanks to the support of Rizhao Steel. He said that Rizhao Steel as the youngest million-ton steel companies, Merchants Bank attached great importance to the company's co-operation and development. With the continuous deepening of the Bank of innovative business, Merchants Bank will further strengthen cooperation with Rizhao Steel, and make due contributions to the development of Rizhao Steel.
It is understood that in 2011, Rizhao Steel made contribution of nearly a thousand million to Merchants Bank, Rizhao Branch profit, Merchants Bank also gave the cooperation and support of a number of business innovation in Rizhao Steel, for example: the new business of a number of bills - electronic bills acceptance and discount business, discount business bill finances and bills the buyer to pay interest, the paper ticket CAPE financial operations of the business and domestic card; opened the first cross-border RMB business; for standby letters of credit card pledge loan business; entrusted apply for low interest loan business.
As early as 2004, the Merchants Bank and Rizhao Steel established a business relationship, the Merchants Bank gave important financial support in the early stages of development of the Rizhao Steel Group. In 2008, with the establishment of the Rizhao branch of Merchants Bank, Rizhao Steel and Merchants Bank's business relationship deepened, deposits, loans, bill financing volume of business continues to expand, the variety of businesses increase, become the key customers of Merchants Bank. Merchants Bank has played a larger promote and support in the business development of Rizhao Steel. In recent years, with the continuous development of the company, business cooperation between Rizhao Steel and Merchants Bank become more extensive, business areas continue to broaden, the line of credit is increasing. Cooperation business covers trade finance, flow of capital loans, bankers' acceptances, discounted domestic letters of credit, trust and loan business and many other fields.
Both sides are very pleased and positive cooperation in further discussion, hope a more comprehensive, in-depth cooperation in the future business. With the continuous development of the Merchants Bank in Rizhao, the cooperation will be even more closely.